Former USWGO Alternative News reporter Brian D. Hill, has appeared on Infowars Network political talk shows for two consecutive times in September, 2017, to talk about his Freedom of Information Act (FOIA) lawsuit and about his wrongful conviction.
Source: PRLOG Press Release distribution // Stanley Bolten
DANVILLE, Va. – Sept. 27, 2017 – PRLog — Brian D. Hill, the former news reporter for USWGO Alternative News, has appeared on the Infowars political talk show network, for two times on the month of September, 2017, to make statements on his Federal lawsuit concerning the Freedom of Information Act (FOIA) and about his opinions on that he believes his criminal conviction was a wrongful conviction that was caused by malicious prosecution. He has stated many times in his case that he is intending to prove his actual innocence before filing a sec. 2255 motion to vacate or set aside his setence and overturn his conviction on the ground of actual innocence.
On April 25, 2017, Brian filed a complaint in the Federal Court for the Western District of Virginia, in Roanoke, and was assigned to the U.S. Courthouse in the city of Danville. It had been assigned to the Federal Judge named Jackson L. Kiser. Cheryl T. Sloan, is representing the Government defendants' in this case. What he had request in his original FOIA request, as stated in all evidence in the complaint, was his entire discovery packet of evidence from his criminal case from the U.S. District Court for the Middle District of North Carolina, case # 1:13-cr-435-00001. The case also named as United States v. Brian David Hill. Brian has charged in his complaint that the U.S. Attorney Office has deprived him of all Constitutional rights along with the two court appointed lawyers which he deemed to be ineffective assistance of Counsel.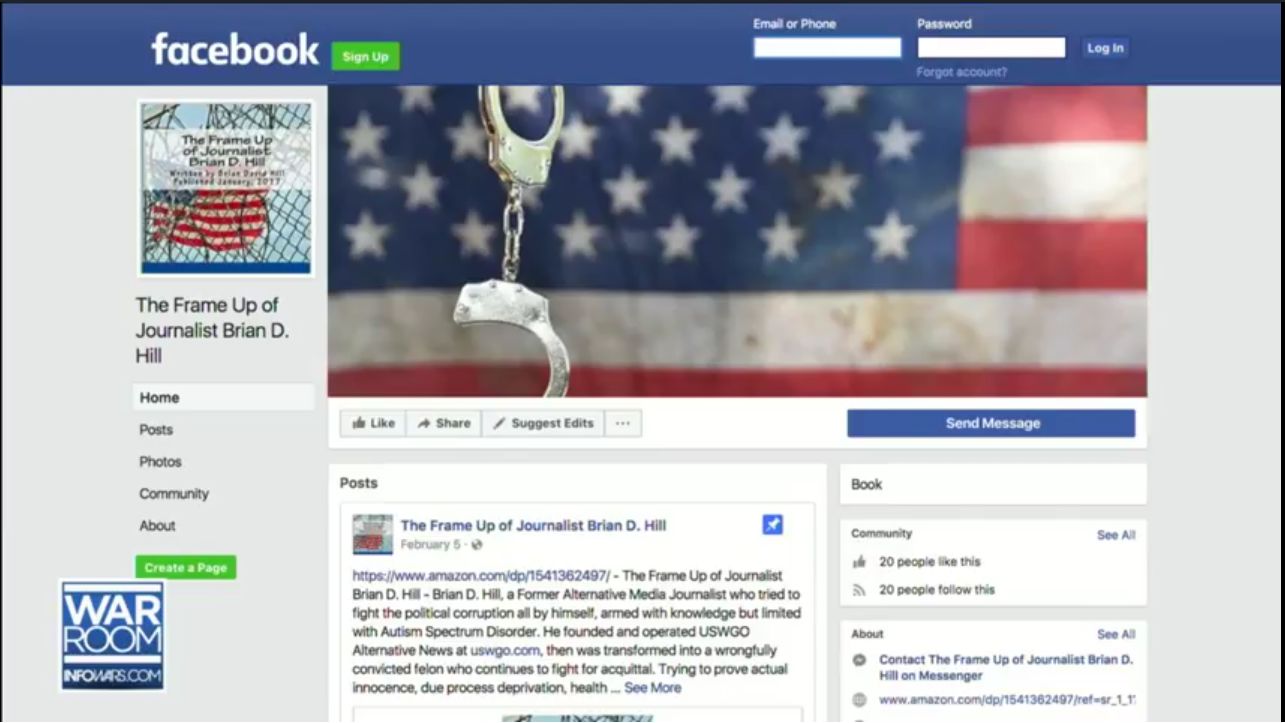 On September 13, 2017, Brian appeared for the first hour on "The War Room" with host Owen Shroyer, of Infowars. He introduced Brian as being "attacked by the left" and stated that he himself wasn't going to tell Brian's story but thought that Brian should call in to tell his story on the show. So Brian told his story briefly for a few minutes without going into much detail.
Brian had received a correspondence from the Defendant Executive Office for United States Attorneys (EOUSA) of the U.S. Department of Justice (US DOJ), a day later, according to the filed Document #40, that was filed in his case for the U.S. District Court for the Western District of Virginia, in Danville, civil case # 4:17-cv-00027. Brian had stated his opinion concerning whether or not the EOUSA had sent that letter as a reaction to Brian's appearance on "the War Room".
Brian made yet another unannounced appearance on "the War Room" again, this time around September 27, 2017. Brian appeared for the third hour on on "The War Room". This time it was hosted by Rob Dew, the video producer of Infowars production staff, Free Speech Systems, LLC. There were two co-hosts and one of them was the beautiful model-like anchor named Lee Ann McAdoo, and another co-host. Brian talked about how he had given the Nullify-NDAA petition to town of Mayodan municipal Attorney named Philip Edward Berger Senior (the Senator of the North Carolina General Assembly as well, and president pro tempore that I add as well), then he did nothing about the petition and kept things quiet, then Brian asked a hardball question to that same Attorney, then he was threatened by the Chief of Police in the town of Mayodan, then the police harassed his mother, then eight days later, around the time he claimed that his Laptop was hacked according to Affidavits filed with the Federal Court, illegal files were downloading to his Laptop. What was odd was that illegal files had continued to had downloaded on his "Black Toshiba Laptop Computer" all the way up until July 28, 2013, while that very same Laptop was reported to have been seized on August 28, 2012.
Is the U.S. Attorney Ripley Rand, along with Anand Prakash Ramaswamy, and Cheryl Thorton Sloan, and possibly others involved in covering up evidence that may exonerate the wrongfully convicted Plaintiff (criminal Defendant) Brian David Hill of USWGO Alternative News?
Why is Brian even having to file a request under the Freedom of Information Act (FOIA) when Brian already has a right, as a criminal Defendant, to cross examination and gain access to discovery, as well as to inspect, and make photocopies of the discovery evidence to prevent a trial by ambush? Why is the U.S. Attorney Office for the Middle District of North Carolina so concerned about Brian proving his actual innocence?
WAR ROOM SHOW (1st HOUR) Wednesday 9/13/17: News & More – YouTube (Brian appears 33 minutes into the first hour):
https://www.youtube.com/watch?v=xDRjOR66yXU&t=1980s
WAR ROOM (3rd HOUR) Wed – 9/27/17 • Alex Jones Infowars • Lee Ann McAdoo – YouTube (Brian appears 25 minutes and 40 seconds into the third hour):
https://www.youtube.com/watch?v=Y2-ijED1UrM&t=1540